How a 1,500-person org uses Axios HQ to keep corporate and frontline staff connected.
The challenge: At the start of the pandemic, Benco Dental furloughed one-third of its staff. Leaders needed a way to keep folks connected to culture and engaged with the company until they could come back. It had to be:
Engaging: With staff across the country, and a 50-50 spread between high paid corporate employees and blue collar workers, the answer had to be simple and accessible to async readers with very different needs.
Collaborative: Their senior leadership team wanted staff to hear directly from them and others throughout the organization. It was important that contributors could work together to prepare each all-staff update.
The solution: Benco Dental uses Axios HQ to compile and send an update to 1,500 employees every Sunday morning — with 50% of readers opening within two hours. From monthly sales targets to updates on its $15 million IT infrastructure overhaul, it's the core communication that keeps everyone on the same page.
💭 Chuck Cohen, Managing Partner:
"The thing that I like about this methodology is everybody at the organization gets the same message with the same words, at the same time. We have no time zone issues. They can interact with it in less than 10 minutes, and we can answer questions. Most importantly, the Axios system reminds you to be crystal clear about what is going on and why it is important. People like that a lot."
"When we ask associates 'Do you feel like you know what Benco strategy is and where we're going,' we're getting higher scores than before. I take that data, combined with our Axios HQ open rate, and I've gotta believe this specific piece of our communication strategy is integral to driving that engagement."
How it works: Every week on Sunday morning, Chuck starts to compile the organization's most pressing or important updates. Other members of the team have their own Axios HQ logins, and join in to add their updates, too. By 8:00am it hits inboxes everywhere, and their open rate starts to tick up within minutes.
🧠 Chuck's words of encouragement:
"For three or four months — being the cheapskate I am — I tried to copy Axios without HQ. The true story is, we failed. I needed a system that could teach us your style and help other people on my team learn it, too. I've become a big fan since we signed on, and I'm rolling it out in more areas of the organization."
Go deeper: See an example of the all-staff update Benco Dental sends with Axios HQ.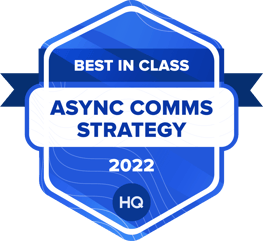 Benco Dental earned Axios HQ's 2022 Best-in-Class award for Async Comms Strategy. See our other award winners: