How a school district uses Axios HQ to keep its community and faculty informed.
The challenge: The school district was preparing to bring all students and staff back for full-time in-person learning for the first time since the pandemic began. Their central comms team was searching for a way to communicate more clearly with the community. It had to be:
Centralized: Too many communications were being sent from different departments. AISD needed to streamline and consolidate the most important updates to make sure they didn't get missed.
Transparent: The communications that did go out were often opaque and confusing. AISD needed a clearer, more succinct style that could re-engage the community and build trust with its families.
The solution: Austin ISD uses Axios HQ to draft and send two vital updates — one weekly communication that goes to families in the district and another that serves its staff. AISD's comms team also invested in Axios HQ writing workshops and 1:1 editing support to help the AISD team quickly master Axios' Smart Brevity® communication style.
💭 Cristina Nguyen, Media Relations Manager:
On Axios HQ: "It's been really helpful in community and trust building. In school communications, no one ever tells you, 'Oh, I loved your communication.' So it was kind of a shock for us to hear, 'Thank you.' Every week, more and more people email us."
On Smart Brevity: "We work with a bunch of academics who have PhDs or Master's in Education and write like we're writing a research paper a lot of the time. Smart Brevity was kind of like a jolt to say, this is how people are receiving the communication, and this is an easier way for them to be able to digest what we're saying so it can make a bigger impact."
How it works: Axios HQ's team led a series of in-depth Smart Brevity workshops with AISD's team, helped them develop and re-launch the communication that gets sent to staff, and provided hands-on editing support for that update every week for three months — until AISD felt a mastery of the Smart Brevity style.
🧠 Cristina's words of encouragement:
"This has really helped create a bond between us and our community. Even when we have stressful news to share, for us to be able to just say, 'Hey, someone read your concerns. I don't have all the answers. I'm going to work on finding answers, and they'll be in the next newsletter.' That has helped a lot. From a customer service standpoint, Axios HQ and Smart Brevity have made a really big impact."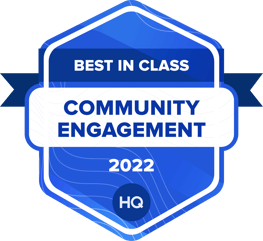 Austin ISD earned Axios HQ's 2022 Best-in-Class award for Community Engagement. See our other award winners: