Its young management team trusts Axios HQ to keep its hybrid staff in sync.
The challenge: In 2020, Trade Coffee was a three-year-old company with fewer than 50 employees, and the team was scaling fast. Its leaders needed a transparent way to keep staff aware of company decisions and directives. It had to be:
Structured: A young management team needed discipline and templates to help them distill what the company was doing and why in a format the team could access asynchronously.
Transparent: Staff wanted an opportunity to hear directly from leaders, then absorb and digest what they'd learned before having to react.
The solution: Trade Coffee launched a weekly Axios HQ all-staff update to consolidate and communicate things like industry news, product launches, marketing bets and more. Every Thursday, the staff has an all-hands meeting where updates are shared, then on Friday the HQ email recaps the most important elements. And on a bi-weekly cadence, an anonymous town hall creates space for staff to ask questions that remain.
💭 Mike Lackman, CEO:

"There's a ceremony to it. Our HQ update is a chance for the management team to go on the record, simplify our news, and reiterate what it means. It's a way to communicate efficiently, to let people digest it asynchronously — which is a big deal — and to measure whether it's getting traction. With HQ, people can sip at their own pace, all in one place, and it only takes five minutes."
"In our employee NPS surveys, 'Communication' and 'Being in the Loop' were things people wanted. Now, when we do a 'Stop, Start, Continue' as part of NPS, our Friday HQ email is always in 'Continue.' People really like it."
How it works: Each member of Trade Coffee's management team logs into Axios HQ and contributes a high-fidelity department update to the staff-wide communication each week. By Thursday at noon, their CEO has seen them all and signed off — and on Friday it's ready to fly.
🧠 Mike's words of encouragement:

"The first five or six weeks were hard. You're just not used to writing this way at the beginning. But then you get better. It gets a lot easier to know what the kernel in each update should be. Now most people can crank it out — we've really found our mojo."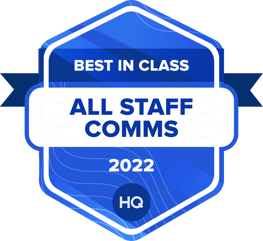 Trade Coffee earned Axios HQ's 2022 Best-in-Class award for All-Staff Comms. See our other award winners: