The ethics and compliance company used Axios HQ to communicate its acquisition and rebrand.
The challenge: LRN, the No. 1 company in its market space, had just absorbed the No. 2. Its team was navigating sensitive ground — merging into a single corporate structure, rebranding the newly combined company, and defining an authentic culture for teams in several countries around the world.
Leadership were looking for a way to consolidate and elevate staff-wide communications. It had to be:
Focused. Too many emails were hitting all-staff inboxes. Employees were overwhelmed with updates that weren't always targeted, worthy or relevant to them, and important updates were getting missed.
Functional: Leaders across the organization would need to share updates. A prescriptive format with tips to distill their messages would empower a more attention-grabbing outcome and keep their tone on brand.
The solution: LRN uses Axios HQ to create and send a single staff-wide touchpoint. It consolidates the company's most important news, has a modern look and feel, and sends the afternoon before their all-hands so everyone can join that meeting on the same page. Among employees, 96% say they find something valuable in it every week.
💭 Jen Üner, Strategic Communications Director:

"Before Axios HQ, we actually didn't have anything that was bringing everybody together every week. Remote people felt really isolated — they might be connected to a team, but the company was getting more and more abstract. HQ was a great fix. Its fresh communication style is really engaging for staff."
"Axios HQ is our solution for disjointed communications — there was too much getting shared, and staff was struggling to see, 'What's really important?' Axios gives you the perfect format. Smart Brevity makes it feel modern and crisp and focuses people's attention on what they need to know. That's the bottom line."
How it works: LRN sends a weekly all-staff update through Axios HQ. Their central communications team has "deputized" people in different departments to be contributors so the work doesn't fall on one person or only reflect one perspective. Engineering, tech, product, sales, marketing and HR all have a central place to share important news.
🧠 Jen's words of encouragement:

"I would love to say everybody just jumped in like, 'I can't wait to support this.' While it was easy to sell them on the concept, at the start it was often a struggle to get their contributions. Now that the rhythm is established and people are engaging every week, it's as if there's competition among leadership about whose news will be first up!"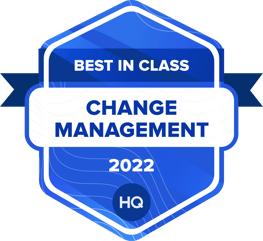 LRN earned Axios HQ's 2022 Best-in-Class award for Change Management. See our other award winners: